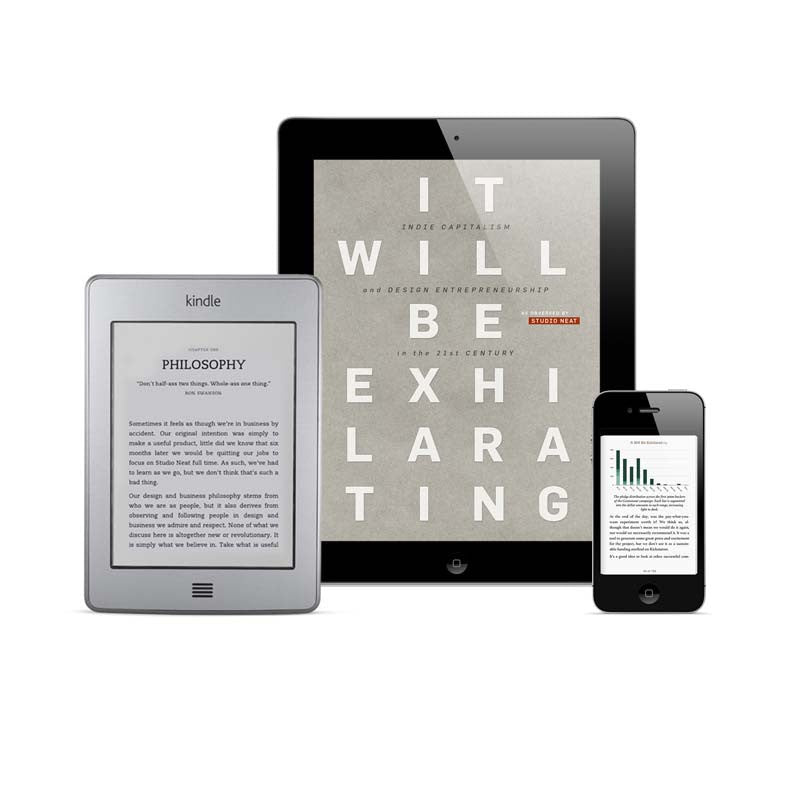 IT WILL BE EXHILARATING
Indie Capitalism and Design Entrepreneurship in the 21st Century
This book is available directly from us as an ebook bundle containing .epub, .mobi, and .pdf files (DRM free). It is also available in the
iBookstore
and on
Amazon
.
A book about making stuff.
Studio Neat has been in business for over three years. We have launched four successful Kickstarter projects, in turn paving the way for a new era of independent hardware manufacturing, and have also released several iPhone apps. We have learned a lot in a short period of time, and wanted to share this information with the world. So we wrote a book.
This book was written to offer guidance and inspiration for those charting a similar path, and covers topics such as running a small business, creating hardware products independently, launching a Kickstarter project, and tips for promoting your products. Everything is told through the lens of our own experience.
It Will Be Exhilarating is a short read that will provide the needed kick to start making stuff. There isn't a better time than now.
What Others Are Saying:
"This book will transform what you thought you knew about the business of design and the design of business."
– Liz Danzico, chair of the MFA in Interaction Design program at SVA.
"Tom and Dan have created a hitchhikers guide to the black art that is successfully funding a Kickstarter project."
– Ben Brooks, brooksreview.net
"There is no recipe for passion, no 5-step guide to making your idea real, but there is good, solid advice, and this book is filled with it."
– Clay Shirky, author, Here Comes Everybody
"I was shocked at how transparent and thorough Studio Neat are at sharing the details of their journey. Moreover, the book reads quick so you can get back to building your next great idea, but now with a bit of extra inspiration and insight."
– Shawn Blanc, shawnblanc.net
"Studio Neat has a practical roadmap for taking something you love and potentially making it your livelihood."
– Glenn Fleishman, The Economist, Macworld, and BoingBoing